ClickTight Convertible Car Seat: Harness Hip Adjustment - Standard Position
---
Our ClickTight convertible car seats include an innovative harness system that allows you to adjust the harness positioning in two places – at the child's hip and shoulder levels – to provide a custom fit for your child. Before installing and using your ClickTight convertible, ensure that the harness is properly adjusted and secured in the standard position at the hip by following the directions below.

If your child needs more room to fit comfortably within the harness AND is 2+ years old, the harness can be adjusted to a longer length.  This is ONLY an option for children 2+ years old. SEE INSTRUCTIONS
---
Step 1: Open the ClickTight Panel
1. Identify the ClickTight Key. Find the indention.
2. Place your finger on the indention and push forward.
3. Hold the ClickTight Key with both fingers and rotate clockwise to unlock.
4. Lift the front panel of the seat to reveal the belt path.
Any doubts? Watch our video below.
---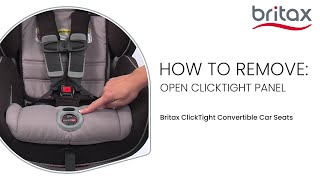 ---
---
Step 2: Adjust the Harness to the Short Length
IMPORTANT: For children under 2 years old, the harness MUST be in the short length.
1. Disconnect the end of one harness strap from the anchor on the bottom side of the seating area.
2. Thread the end of the harness strap through the opening on the inside of the metal bar behind the anchor to the bottom of the seating area.
3. Wrap the end of the harness around to the outside of the bar and hook the harness loop to the anchor ensuring that it is secure inside the hook.
4. Repeat on the other side.
IMPORTANT: Prior to using the seat, ensure that the harness straps are securely connected to the anchors inside the hook.
Need to see it in action? Watch our video below.
---