Convertible Car Seats
What is an All-In-One Car Seat?
All-in-one car seats can be used from the day your child is born until the day they can buckle up using just a seat belt. We'll walk you through the details, so you can determine if an all-in-one is the best choice for your family.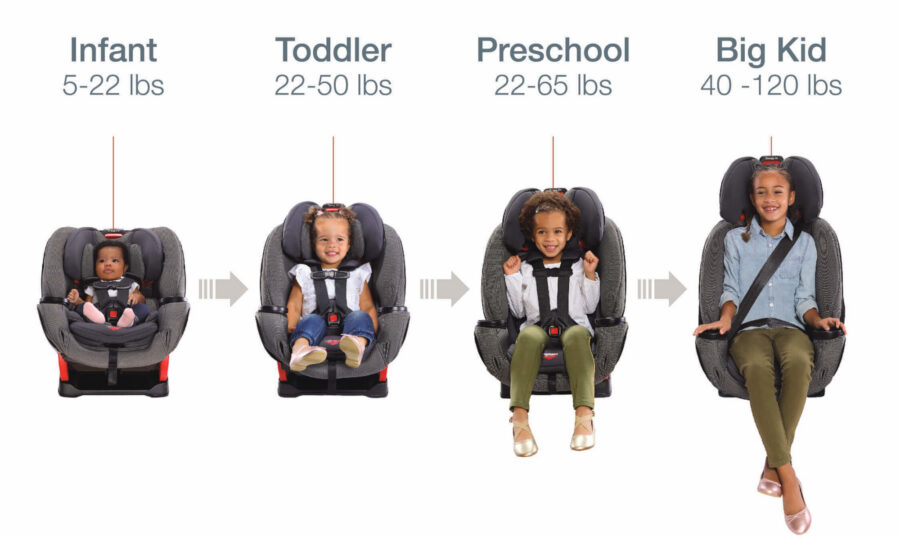 One Seat for Every Stage
As your baby grows from infant, to toddler, to preschooler, to big kid—all-in-one car seats transition through each stage.


Infant & Toddler: Rear-Facing Mode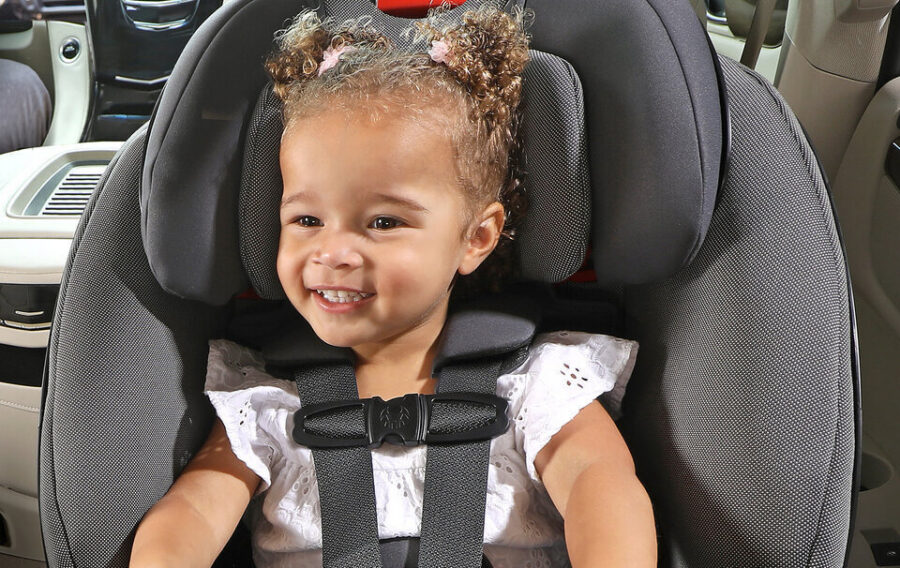 Children should ride in the rear-facing position until they reach the maximum height and weight requirements. So, your baby will ride rear-facing for the first couple of years. (Child passenger safety laws vary in the US, so check your state's laws by visiting www.safekids.org/state-law-tracker.)
While infant car seats are rear-facing only seats, an all-in-one coverts from rear-facing mode to forward-facing mode, and eventually to belt-positing booster mode, to accommodate your growing child.

Preschooler: Forward-Facing Mode - 5-Point Harness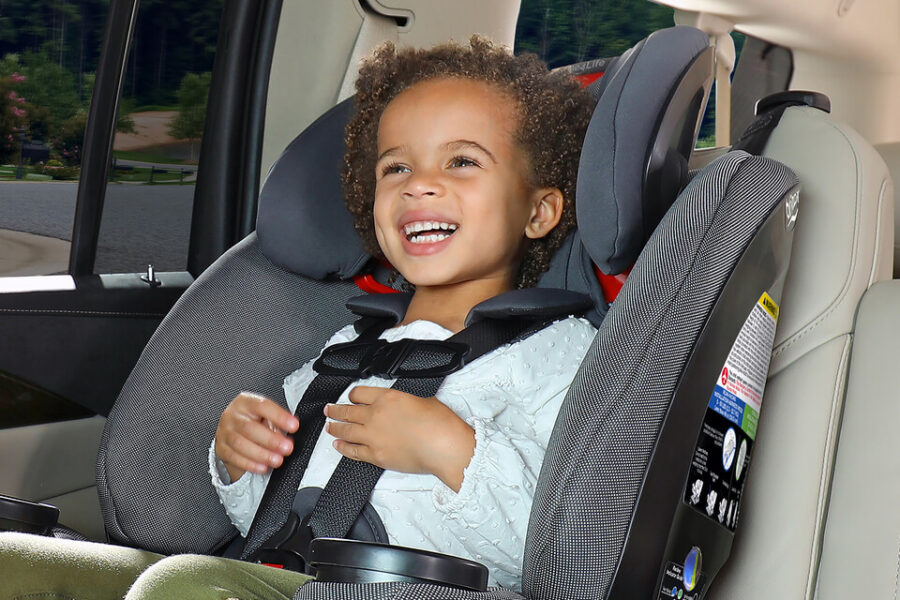 Once your child meets the max height or weight requirements for rear-facing mode, it's time to switch to forward-facing. For the first few years of use, they will still be in a five-point harness. The harness fits over both shoulders and both hips, and buckles at the crotch area, giving them the best protection until they're ready for belt-positioning booster mode.

Big Kid: Forward-Facing Mode - Booster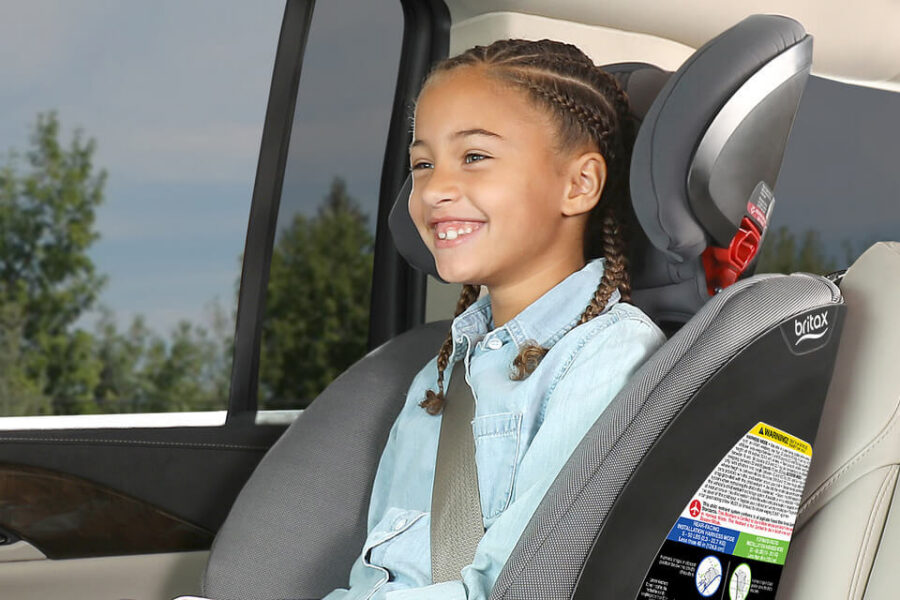 Now your child is almost big enough and mature enough to buckle up using just a seat belt–but they aren't quite there yet. Remember, seat belts are designed to fit adults, so you don't want to rush it. Booster mode gives them the extra "boost" they need, helping to keep the vehicle belt positioned correctly between the shoulder and neck. True to its name, the all-in-one takes your child through all of these stages, using just one seat.

What is a 3-in-1 or 4-in-1 car seat?
So, where do the 3-in-1 and 4-in-1 seats come into play? These products are marketed as "3" and "4" stage seats, but what exactly does that mean? And what stages are they referring to?
The truth is, they're all different. For example, some 3-in-1 seats go from rear-facing, to forward-facing, to high-back booster. Others are forward-facing only seats, starting with a harness and transitioning to high-back booster, and then to backless booster. If you're looking to buy just one car seat, be sure to check the details of each individual product to see if it grows from birth to booster—because sometimes these names can be misleading.

What to Consider
While buying an all-in-one can simplify your car seat shopping experience, it's important to do your research and choose the right one for your family and lifestyle. After all, it'll be in your back seat for nearly a decade—helping your child ride safely from birth up to 10 years old.
Take the extra time to answer these questions before making your decision: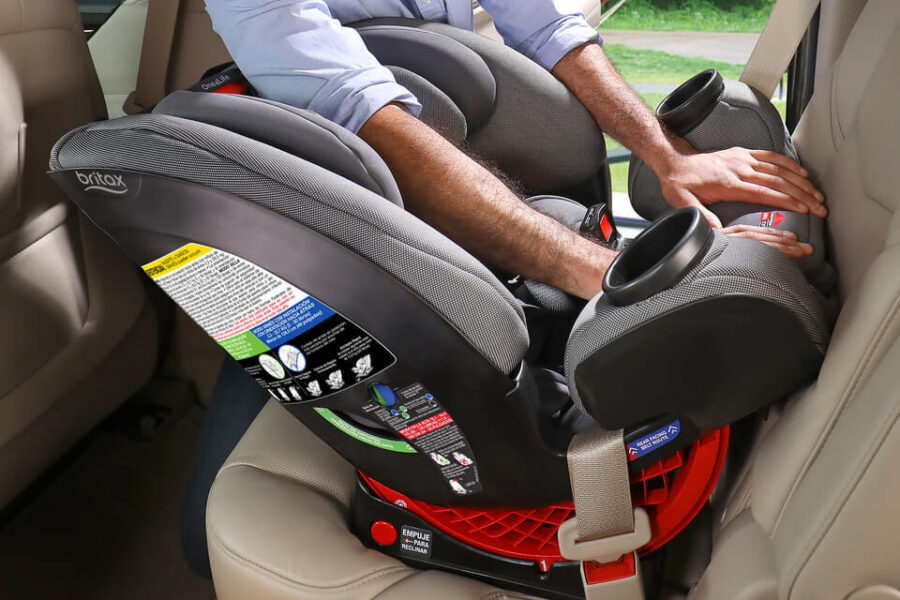 Can I install it with confidence? The safest car seat is the one you can install and use correctly—every time. Don't be afraid to walk into a store and try them out. Are you confident you'll always achieve a secure installation? Will other caregivers who are using the seat be able to install it correctly? This should be at the forefront of your decision.
Is it easy to use, every time? Think about how many times you'll take your child in and out of the seat. When you feel comfortable adjusting the headrest, harness straps, recline angle, etc.—your daily routine becomes that much easier.
How do I clean it? Let's face it—10 years of cracker crumbs and broken crayons can really add up. You're going to want a car seat that's easy to keep clean. Is the cover removable? Machine washable? How about the cup holders? Can you throw them in the dishwasher?
Is it comfortable for my baby? Your baby could be riding in this seat from their first ride home from the hospital, to their first day of preschool and beyond. Look for a seat with extra comfort and convenience features like cup holders, armrests, and plush padding.


Britax One4Life
If you've decided an all-in-one car seat is a perfect fit for your family, the One4Life is a great option. As the only 10-year car seat with ClickTight Installation, it's easy to install in a few steps. Just open, thread & buckle, and click it closed. You'll be confident you've installed it correctly, every single time.
One4Life is built with exclusive Britax-safety, comfort and convenience that you and your child will love. Learn more >